Los fluoroelastómeros son cauchos sintéticos de alto rendimiento, que contienen flúor y tienen una resistencia excepcional a un amplio espectro de aceites, gases, fluidos y productos químicos, incluso a temperaturas elevadas y en entornos rigurosos.
Ventajas de Fluoroelastómero:
Excelente resistencia a la temperatura.
Alta estabilidad química.
Buena duración, envejecimiento y estabilidad ante el oxígeno.
  Resistencia al ozono, la luz solar y la radiación UV (ultravioleta).
Baja permeabilidad a los gases.
Excelente resistencia a una amplia gama de productos químicos, es decir, aceite, combustible, fluidos hidráulicos, bases, solventes de hidrocarburos y ácidos.
Resistencia a la niebla salina y al crecimiento de hongos.
 Se adhiere a una amplia gama de sustratos, que incluyen la mayoría de metales, hormigón, vidrio, cerámica, otros elastómeros y algunos plásticos.
Rango de temperatura de –40 ° C a +225 ° C.
Los fluoroelastómeros se crearon en la década de 1950 para cumplir con los estrictos requisitos de la industria aeroespacial a medida que la tecnología evolucionaba en los EEUU. Fueron la respuesta a la necesidad de una mejor resistencia química, flexibilidad y resistencia a la temperatura, de los elastómeros sintéticos.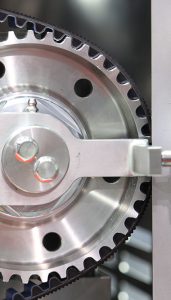 IMPORTANCIA DE LA FLEXIBILIDAD
PARA LA RESISTENCIA QUÍMICA Y A LA EROSIÓN
Cuando las partículas impactan sobre una superficie rígida (acero, ladrillo, etc.), la energía no es absorbida eficientemente por la superficie y, con el tiempo, se irá produciendo una erosión.
Si la superficie está revestida con un revestimiento elastomérico, la energía será absorbida por la flexión de la superficie, obteniendo como resultado una disminución en su erosión.
---
We have the knowledge and experience to provide you with the best solution always. Contact us by
clicking here
.